---
All Traditions in the News
A rustic chic wedding coordinated by All Traditions was just featured in the Ruffled blog! This barn wedding had lots of special touches, including a lounge created using haybales! See it here.
A stunning wedding coordinated by All Traditions made the 100 Layer Cake blog...very exciting! This beachy wedding was held in Dune Lakes, a spectacular piece of land overlooking the dunes in Arroyo Grande, California. See Taylor and Garry's wedding here.

A wedding planned and coordinated by All Traditions has been posted on I Do Venues. This lovely wedding was held at Bianchi Winery in Paso Robles. A clear tent was used to overlook the vineyards and still keep guests warm on a chily October night. Check it out here!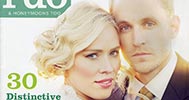 An All Traditions Wedding is Featured in Wedding Destination I Do Magazine 2013 Spring/Summer Editions!
The magazine is available at Barnes and Noble, Target and Safeway. You'll find Marissa and Jay's featured wedding in our rustic chic gallery on our website. View our spread here.
---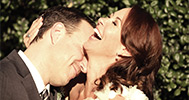 All Traditions Makes Snippet & Ink blog
We are delighted to find out that a lovely wedding we planned and coordinated last April made it to the Snippet & Ink Blog and the Signature Weddings Magazine Wedding Inspirations Section! This was a really beautiful wedding in Cambria. You can view the blog post here and the magazine pages at these two links: here and here.
Congratulations to Kacy and Kirk. What a pleasure it was to work on this rustic chic wedding barn wedding.
---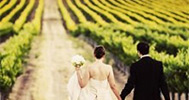 All Traditions in the News Again!
WeddingWire, the nation's leading wedding technology company, just announced All Traditionshas been selected to receive the Bride's Choice Awards™ for Wedding Coordination again! This is the fourth year in a row that All Traditions has received this honour.
The annual Bride's Choice Awards™ recognizes and celebrates excellence in quality and service within the wedding industry, as determined by recent reviews and extensive surveys from over 500,000 newlyweds.
All Traditions is among the top five percent of all vendors in the WeddingWire community, which includes over 100,000 wedding professionals across the US and Canada. Awards were given to winners across 19 different service categories, from wedding venues to photographers. Check out our spot on WeddingWire here.
---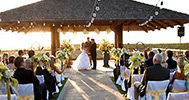 All Traditions in the News Yet Again!
A gorgeous All Traditions photo has been prominently placed in a Here Comes The Guide article which discusses questions to ask when interviewing potential wedding planners. You can view the article here.
---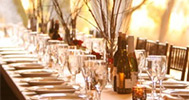 All Traditions Makes CCWP Blog Multiple Times!
May, July and August 2014 weddings by All Traditions made the Central Coast Wedding Professionals blog. View them here, here, and here! Another beautiful wedding on the blog was held in May 2013 in Paso Robles, California. Check it out here.We are excited to also have been featured in January and February 2012 on the CCWP blog! You can view the posts here and here. View our August 2012 posting here and view the July 2012 link here. We were also featured in 2011 here. Congratulations to all of these couples...be good to each other :)
Congratulations on your engagement!
This is an exciting time for you and your family. If you are ready to truly enjoy your engagement and wedding day, you are ready to review the services of All Traditions.
Choose from day-only wedding coordination to full-event wedding planning. Our wedding planner can help you schedule, plan and keep to your budget and suggest appropriate and reputable vendors, so that your money is spent wisely and prioritized on what is important to you. An All Traditions wedding consultant can even save you money by suggesting less expensive alternatives. While we are very experienced at helping out-of-area brides plan the Central Coast wedding of their dreams, our wedding coordinator is also very willing to travel to other locations.
We also offer a complete line of invitations, accessories, bouquet preservation, linens and other rentals. We are your one-stop wedding center!
We invite you to explore our website and discover what we have to offer. Visit our galleries page to view photos of past weddings and our applause page to read testimonials from many of our former brides.
All Traditions has provided services for weddings all along the California Coast in these beautiful cities: Paso Robles, Templeton, Atascadero, San Luis Obispo, Pismo Beach, Avila Beach, Arroyo Grande, Nipomo, Santa Maria, Orcutt, Santa Barbara, & Montecito.
Central Coast Weddings • Beach Weddings • Winery Weddings • Tent Weddings • Ranch Weddings • Barn Weddings • Home Weddings